Pine.blog

Follow blogs, news and more, right from the source
Whether it's a Youtube channel, a blog, or a news site you can stay up to date with it all.

Write on your own blog
Start a blog and get posting! Upload and share photos too! Whether it's a short post or an essay, you're in control.

Reply or comment and join the conversation
Reply or comment on posts from across the web, even if they're not coming from Pine.blog. You can also let others know when you like a post.

Discover new sites and help others do the same Pine.blog's index of sites is constantly growing, and if you follow a new site, you can add it to the index and share it with other Pine users.
Follow People and Sites from All Over the Web
Pine.blog isn't like other social networks. Follow all of your favorite blogs, news sites, YouTube Channels, Mastodon Users, Tumblr blogs, subreddits, and more in a clean, unified timeline. Premium users can sort their interests into multiple timelines.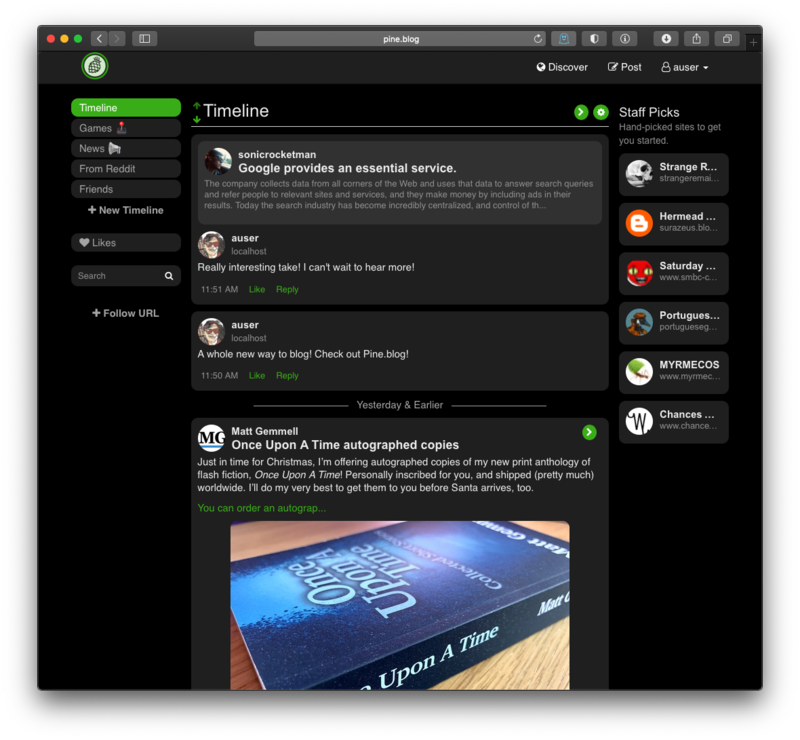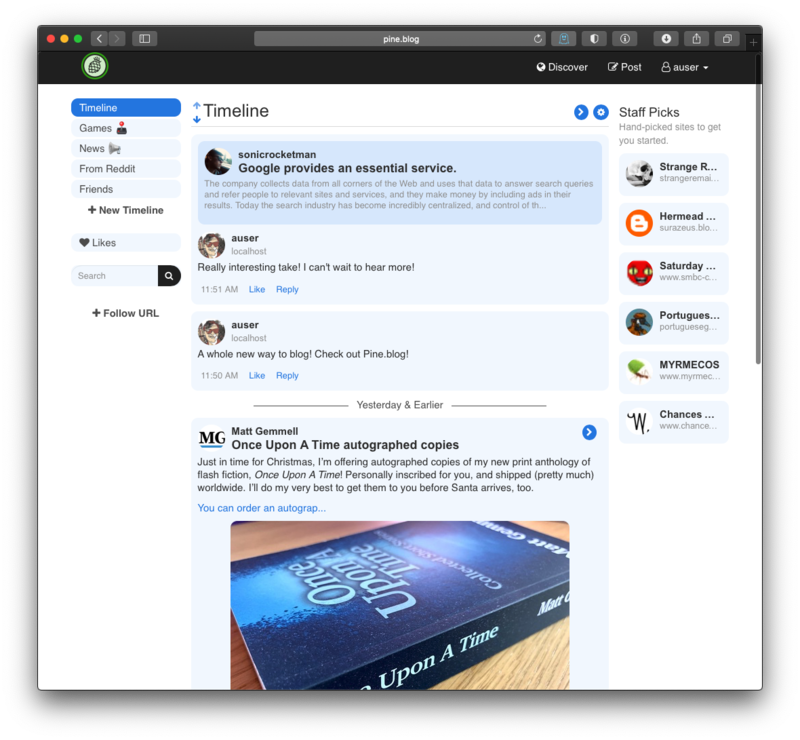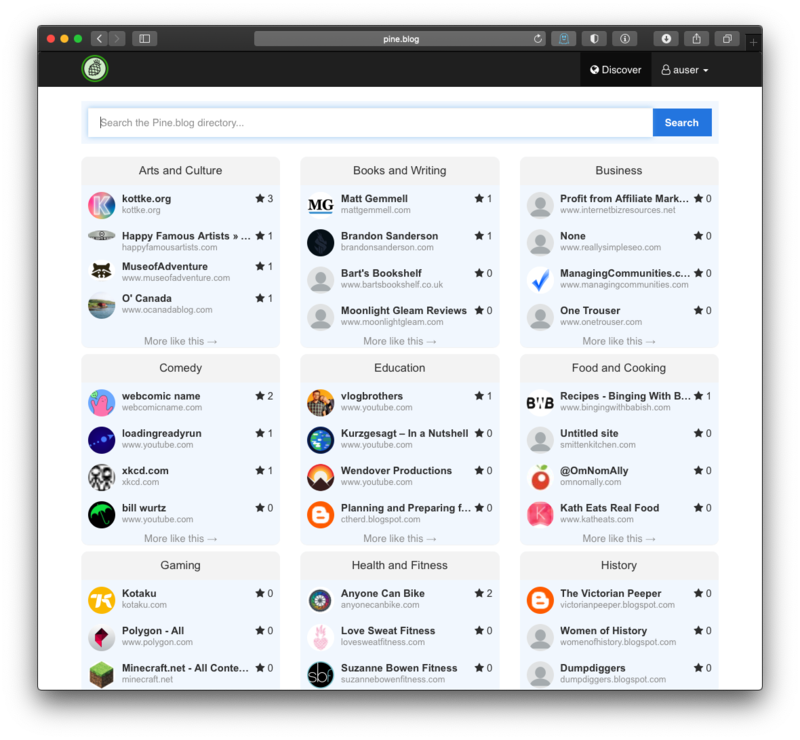 Discover New and Interesting Things No Matter Your Interests
We've searched far and wide across the web to find interesting things to follow. No matter what you're interested in, we've got you covered. Pine.blog's search results are human-curated, and ranked by other Pine.blog users.
Start A Blog
Get started with one-click and share your thoughts with other Pine.blog users and anyone else on the web. Your blog is yours, so make it your own. You can even recommend your favorite sites to others with a blogroll.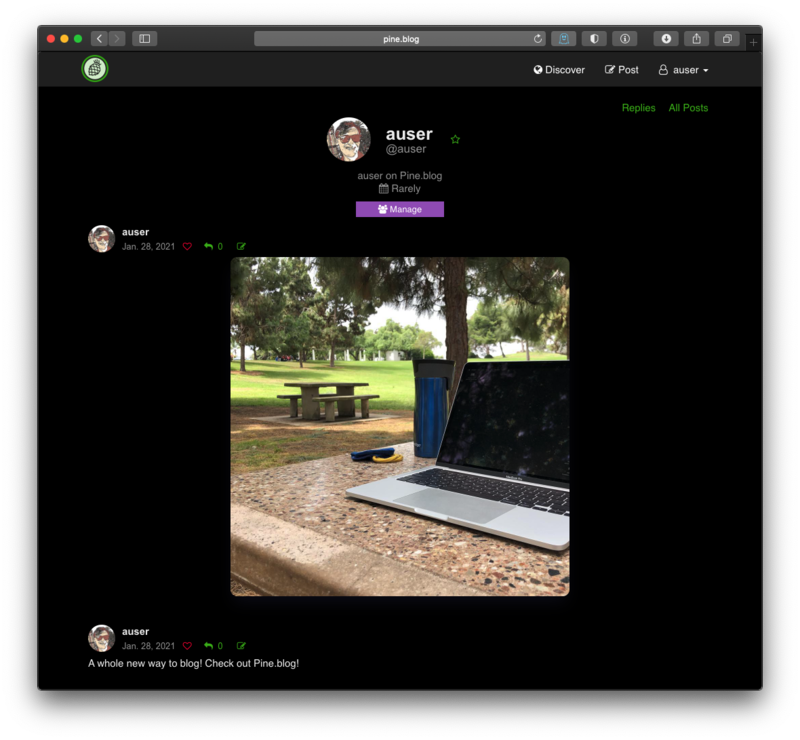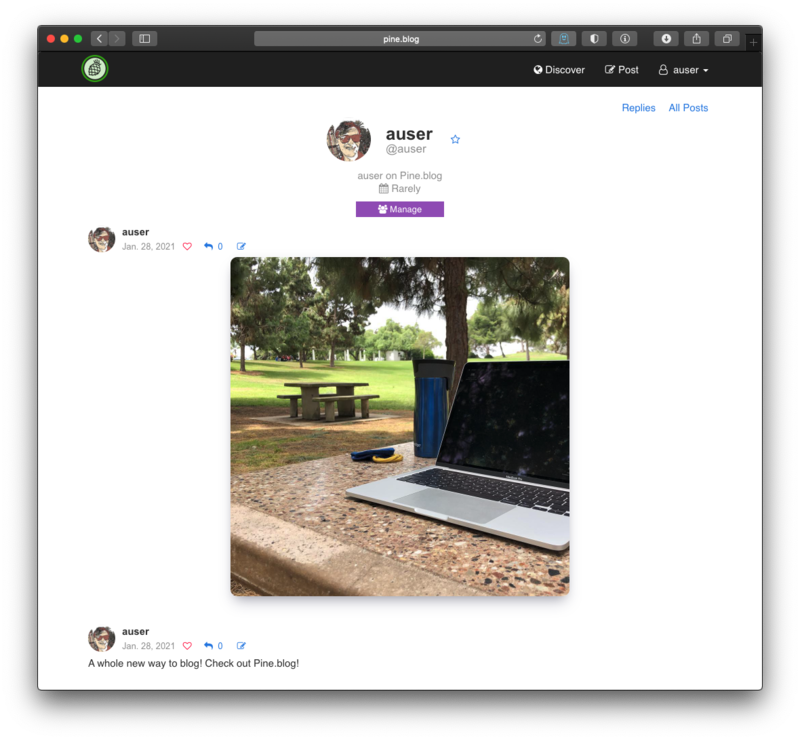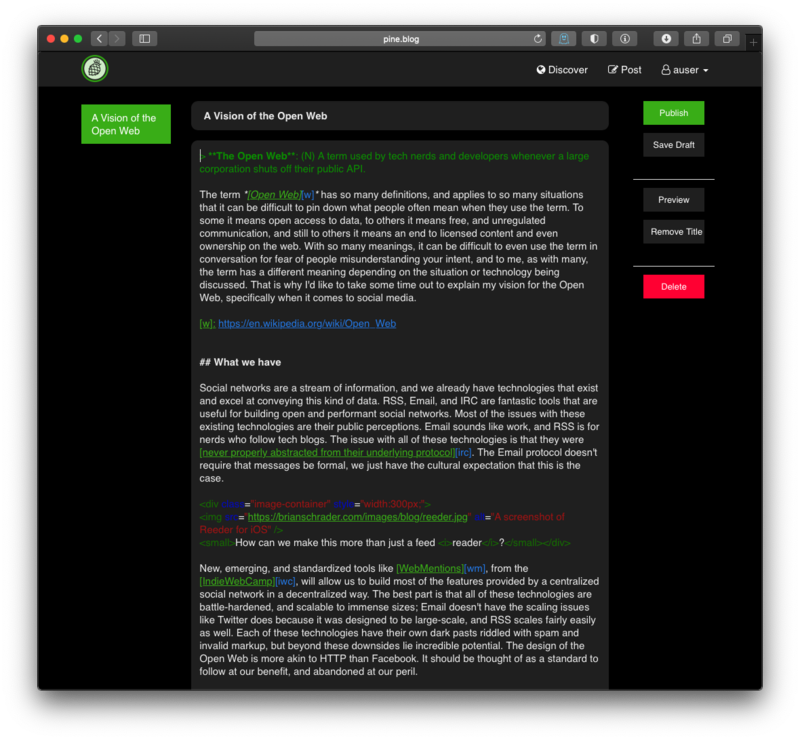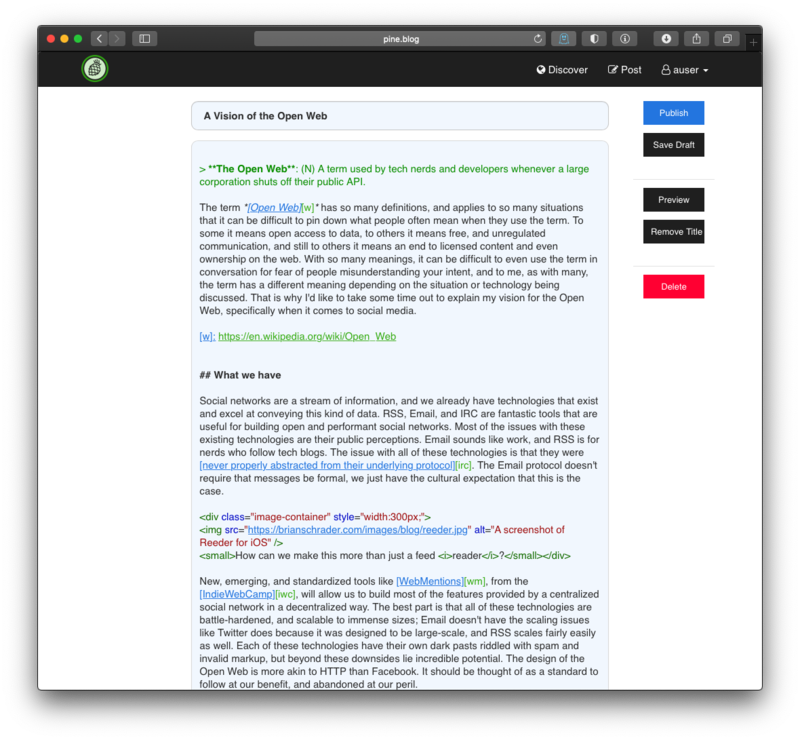 Get to Writing
Whether it's an essay or a quick thought, Pine.blog makes it easy to share your work with others. Pine.blog uses Markdown to make writing quick and easy.
Share Your Photos
Quickly upload and share photos on your blog from the web and from iOS. Post photos to your blog and share them with everyone. Write a quick message or let the photo speak for itself.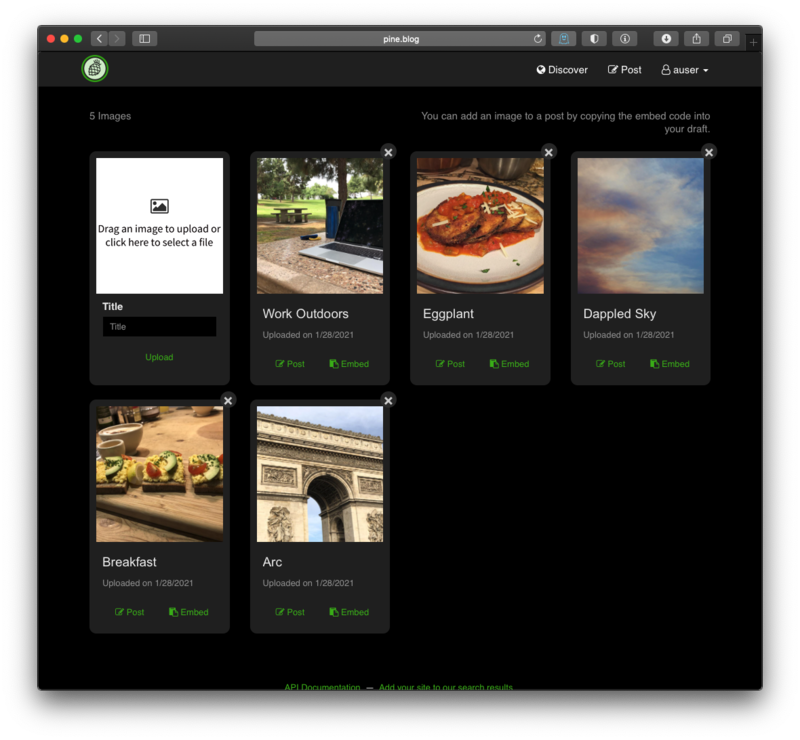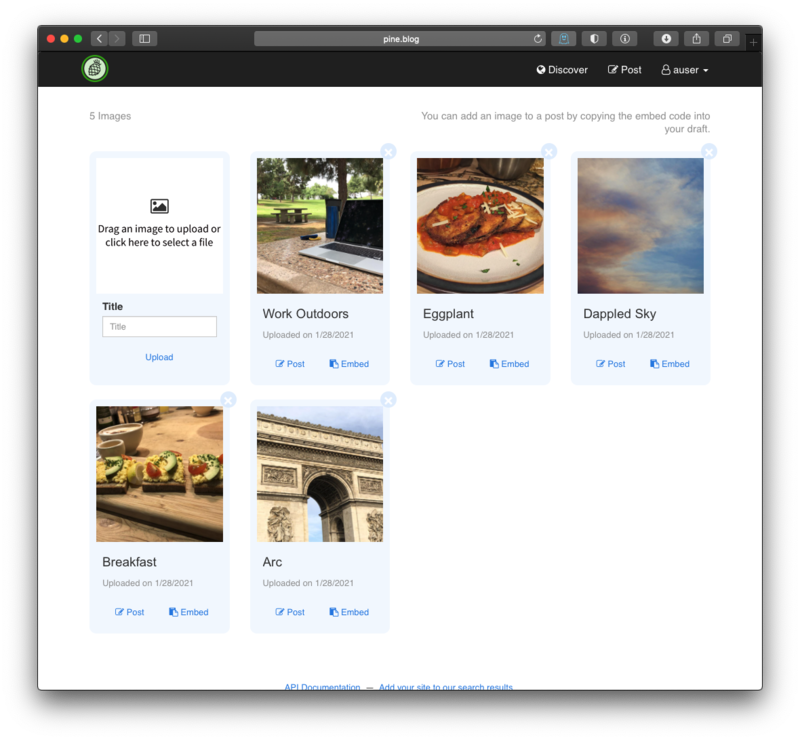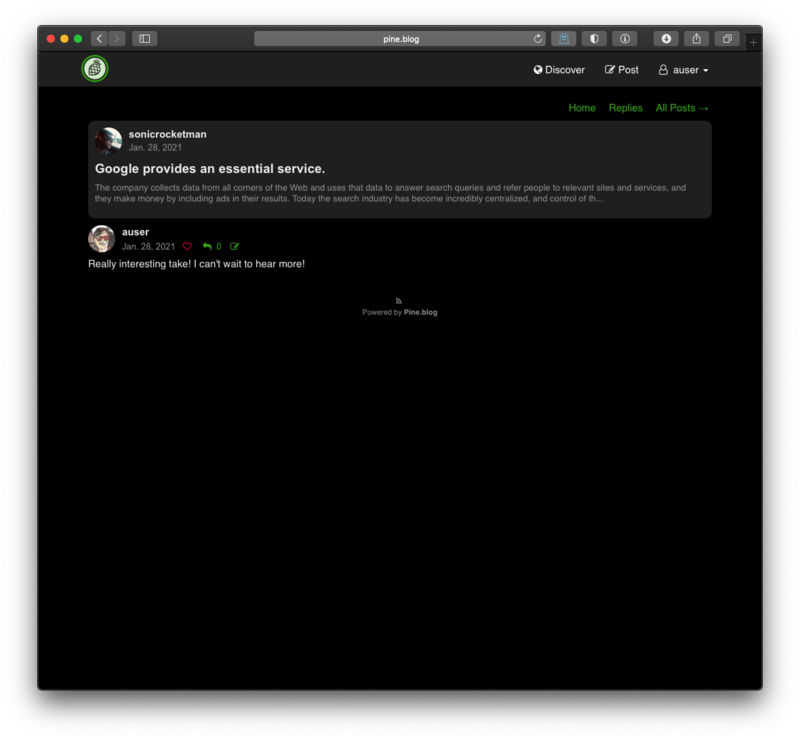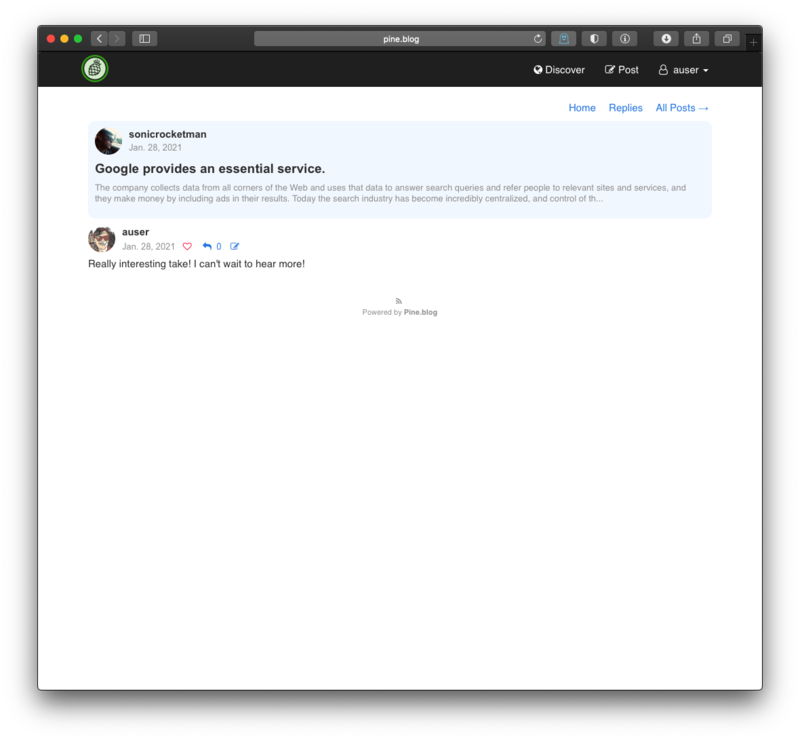 Like, Comment, and Reply
The web is full of great people to talk to. Whether they're using Pine.blog or another platform, you can chat, comment, and like back and forth. A new kind of sharing for a new kind of web.
What Are You Waiting For?
🚀 Simple
If you follow someone, you'll see their every post, in order, period. There's no fancy algorithms between you and your interests.
🔒 Private
Your data is yours. I won't sell your data to anyone, and I only ask for the data I absolutely need.
🌱 Sustainable
Pine.blog is supported directly by its users. There's no ads, no trackers, and no bullshit.
Already Have a Blog?
Add it to our search results and get new followers, for free!
Pine.blog is powered by The Feed Directory, so if you don't see your site in Pine.blog's search results, you can easily add it! Simply sign up for free and submit your site. We'll periodically check in with your site to keep our results updated and let you know how many subscribers you have.
Check out the Pine.blog for Publishers Guide to make sure your site looks great in the Feed Directory.
Add Webmention Support with Pine.blog
You can also use Pine.blog to add Webmention support to your blog. This means that you can see what people are saying and even reply using Pine.blog no matter where your site lives in the Web!