Customizing Your Blog
Blogrolls
A blogroll is a recommendation system built on people and on trust, and it lets your readers know what blogs or sites you recommend. Simply enable the blogroll for your blog in your account settings. Blogrolls are automatically generated based on the most recent sites you've recommended (click the icon to recommend a site).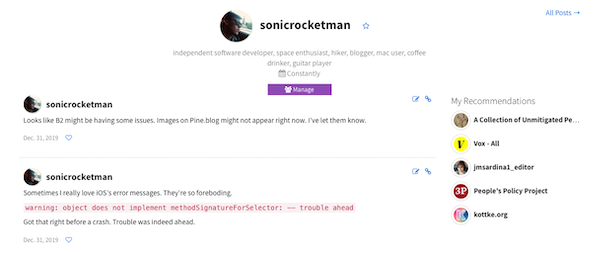 Reader Emails
While Pine.blog does allow people from across the Web to reply to and comment on your posts, sometimes it's preferable for readers to respond in a more private medium. In your account settings, you can allow users to contact you via your Pine.blog email address. When you enable this option (which is off by default) your readers will see an icon on your blog, and in the Pine.blog app that will allow them to email you directly.

Payments
If you use a crowdfunding site, or other site that lets your readers support your work, you can add a link to your page on that site in your Pine.blog account settings.
A link to that page will appear on your blog in both the header, as shown below, and the footer, as well as in the Pine.blog app. Other sites will also be able to show a link to your payment page.

Pine.blog does not handle or process your payments in any way, it just displays a link to an external payments site to let your readers know how to support your work.