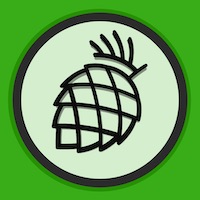 What you get with Pine.blog
Features
By signing up for Pine.blog you'll have access to a new kind of social network. Pine.blog combines a blogging app with a feed reader that's jam-packed with cool features.
A fast and beautiful timeline of posts from sites and people you follow! Keep up with the news and the people you care about in real-time!
Follow unlimited sites and users easily. Just search for them in the Pine.blog index and click Follow, or add a site manually using it's feed URL.
Save posts as favorites. Keep track of interesting posts from anyone you follow by favoriting them.
Post to your own site with Pine using the built-in Wordpress integration. Simply add your site in your account settings!
Discover new, awesome people and sites to follow using Pine's built-in search engine.
Import subscriptions from other services using Pine's OPML import!
Use Pine from the web, an iPhone, or iPad via the Universal iOS app!
With Pine you can follow almost anything. Just copy the URL from the page and follow it using either the app or the web!

Blogs and Microblogs
News Sites
Tumblr Blogs
Mastodon Users
---
Premium Features
If you decide to go the extra mile and become a Pine.blog premium user, you'll get access to even more great stuff!
Start your own blog. Start using a rich set of powerful blogging tools and write about what interests you, post photos for the world to see, and follow it all from Pine.blog. Other people can subscribe to your blog, even if they don't use Pine.blog.
Organize your interests into multiple timelines. Separate out the hard-hitting news from the photos of your friends and make it easier to keep up with all the stuff you follow.
Developer Features
Access the full power of the search API. With a premium account, the request throttling limits on Pine.blog's API are raised to 1000/min. If you're building a feed reader, or other blogging service don't waste your time crawling the internet looking for feeds and categorizing them; let Pine.blog do it for you.
Premium Subscriptions come with a 7-day free trial
$5 per month afterward — Cancel anytime

Sign Up for Free!
Payments are processed via Stripe.
---
Screenshots
Pine.blog on iOS
Light and Dark Mode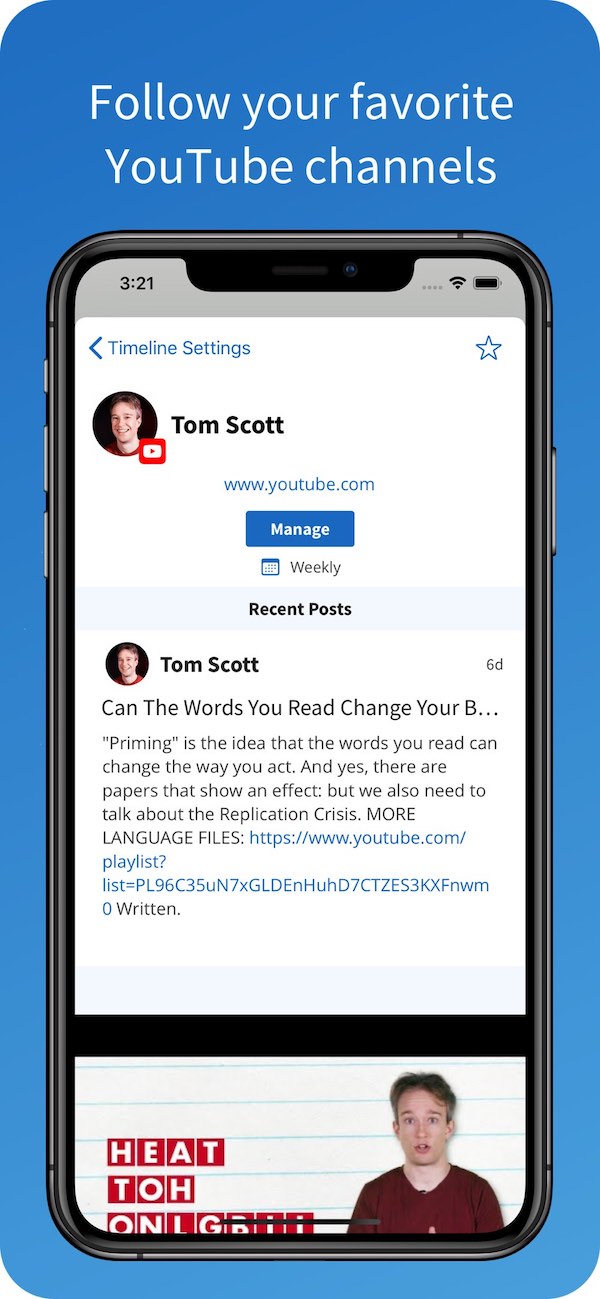 Follow almost any site on the web including YouTube Channels, Mastodon Users, and so much more!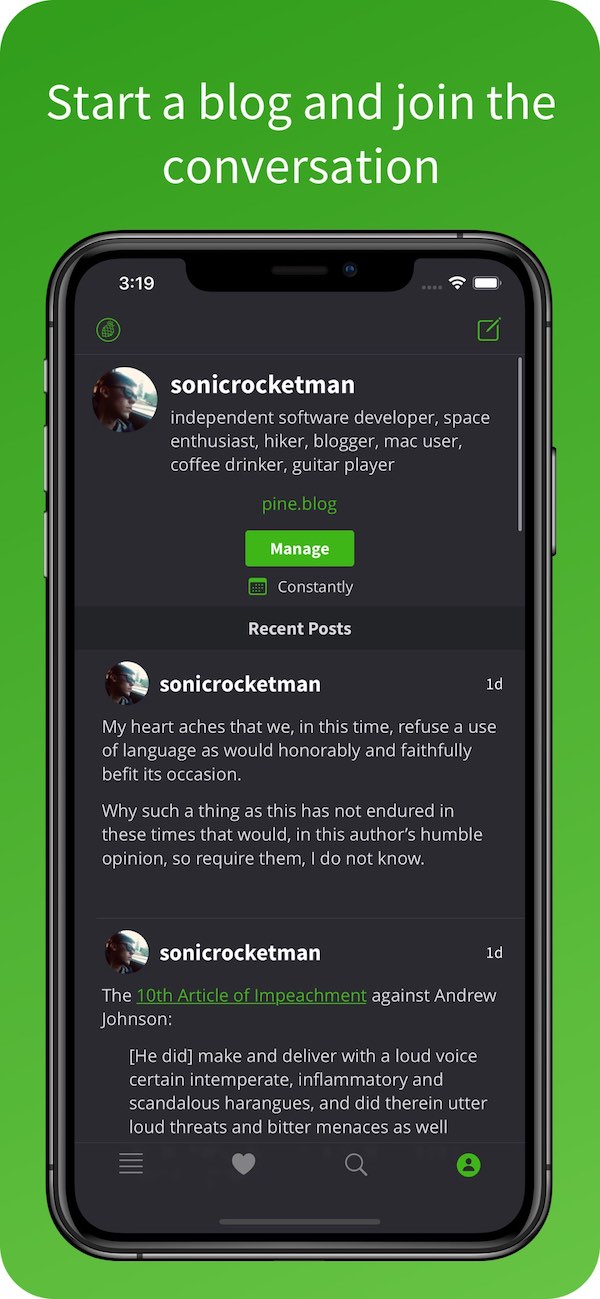 Start a blog and join the conversation. Chat with other bloggers even if they don't use Pine.blog.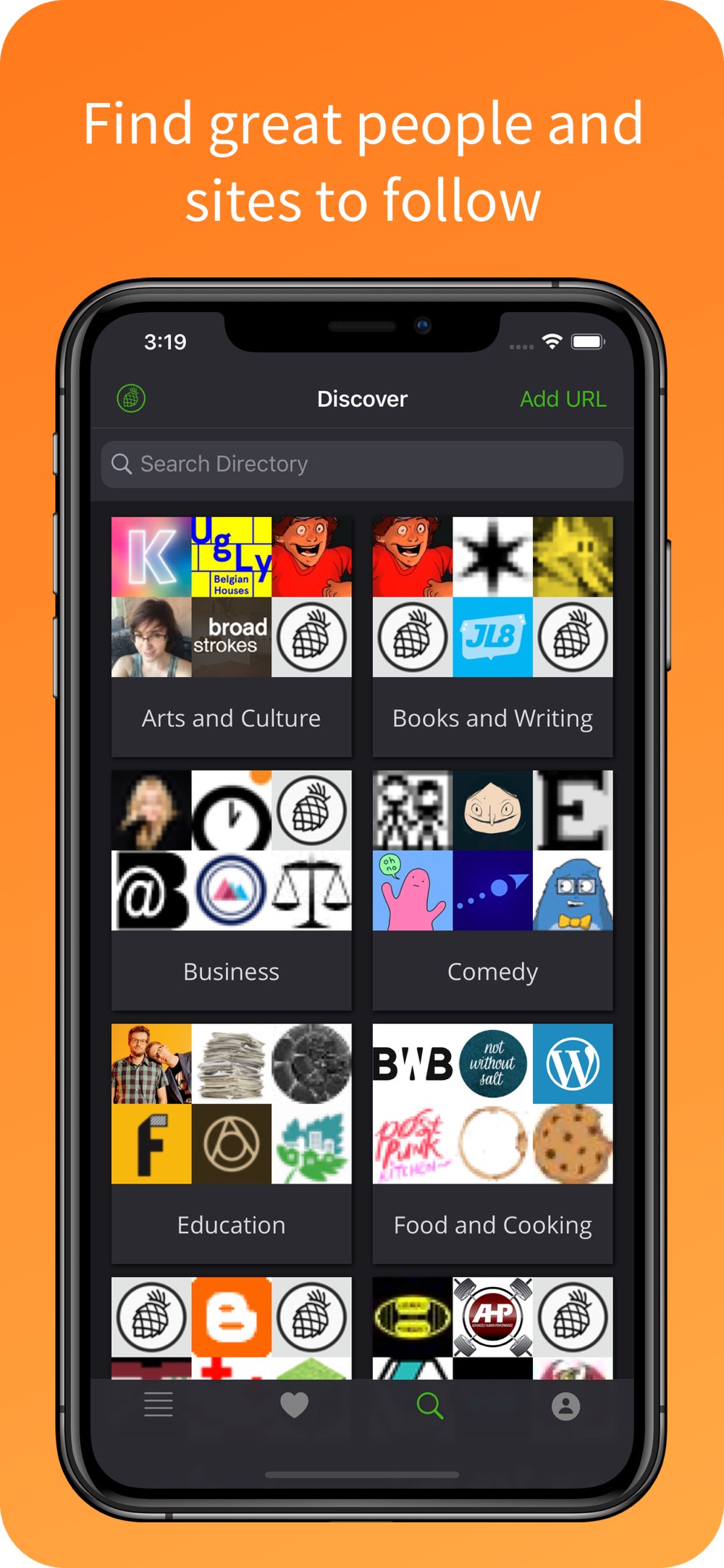 Search for new sites from an ever-growing index of great blogs, microblogs, and photoblogs. If you can't find what you're looking for you can always add it directly via a URL.
Pine on the Web
Use Pine from anywhere, on any device!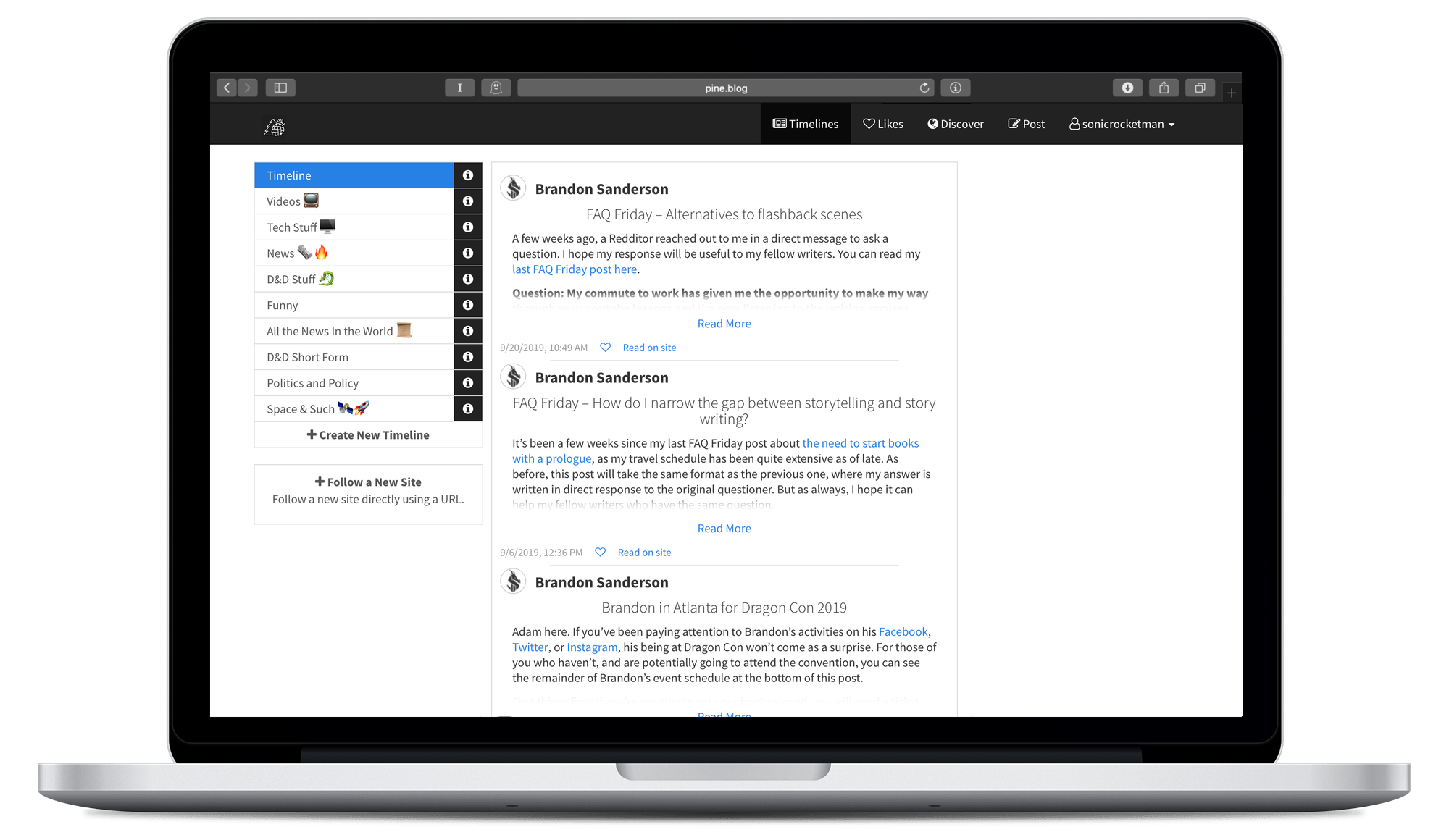 Take Pine's fresh, clean timeline anywhere!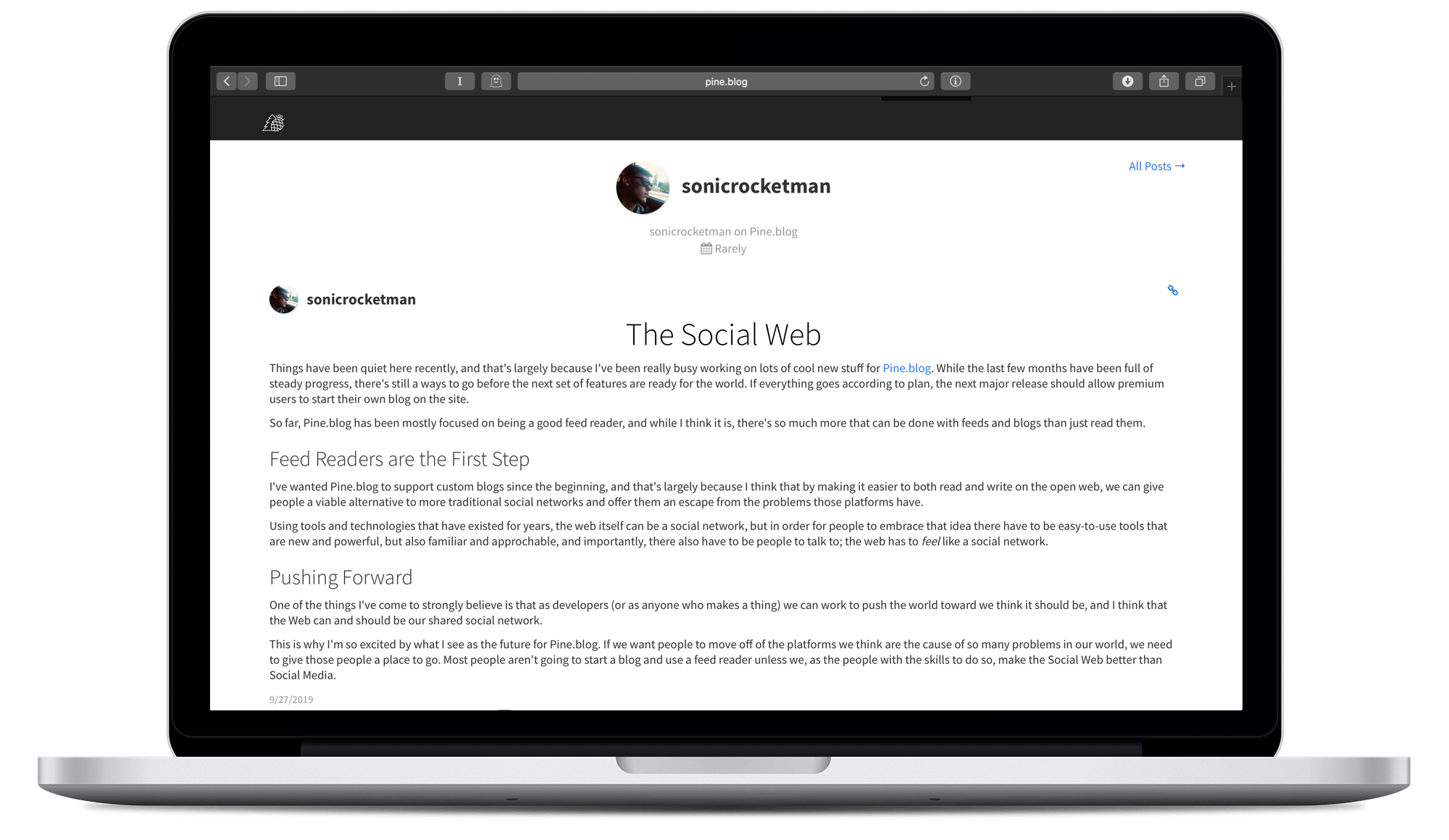 Write on your own blog and share your thoughts with the world!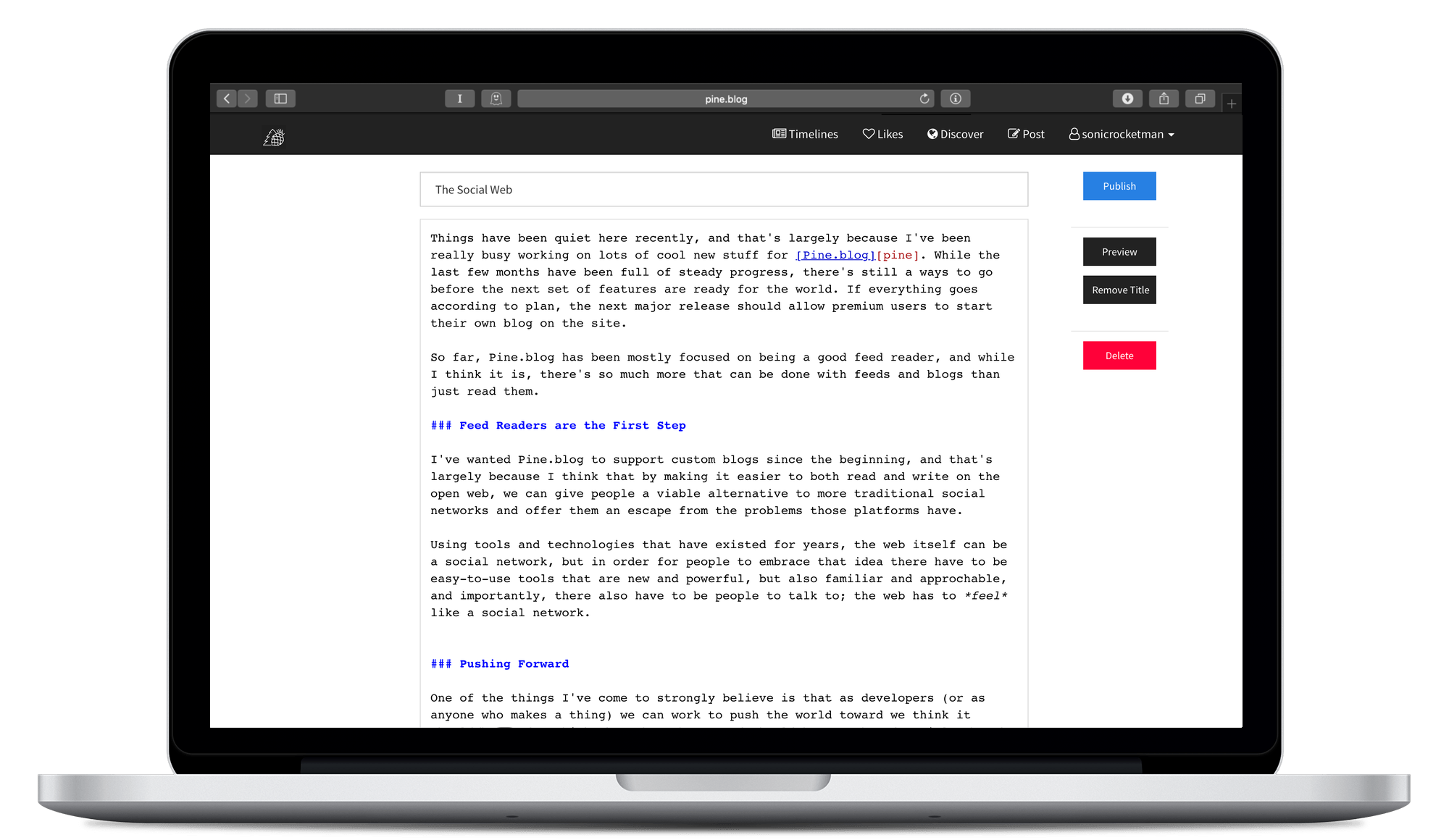 Use powerful blogging tools to quickly and easily get your thoughts on the (digital) page
---